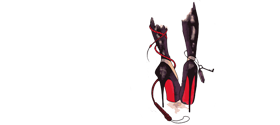 Testimonials
Thank You for allowing me to provide feedback Mistress about our session. I also share some general thoughts about my take on a longer term D/s relationship. I hope You will find this useful and not over-the-top; I appreciate it's only our second session so we're still forming our D/s relationship. Please don't view any expression of likes/dislikes as any form of direction or suggestion, it's just for Your information. Obviously You call the shots and I would expect to do whatever makes You happy, which in turn will make me happy; I can say that in absolutely honesty.
I've already told You that I enjoyed the session immensely, but here are some further thoughts…
– First things first. You looked amazing, so unbelievably fucking hot, excuse my language. Obviously I'm not opposed to You sessioning in sexy lingerie at all… I am never sure how to express this in a session; as the submissive it feels inappropriate to verbalise any sort of attraction. But You did look scintillatingly sexy, if You don't mind me saying.
– Loved the strapon play, You're the best I've had, and I can feel that You're into it too, at least it really seems so! You did everything I like – hard and abusive, slow and sensual, slapping, making me gag, loved the dirty talk and reference to involving others, etc… The more dirty talk the better, humiliating me like the slut whore I am lol
– In terms of oral, I was a bit disappointed, felt like I could take a bit more but struggled a bit with the harder one as to date I've mostly been practising on Doc Johnson realistic (or the real thing!), which is a bit softer. However a good slut should not complain about the type of cock so I will adjust my practice routine and be better next time 🙂 And in fact you may wish to specifically use the hardest ones you can find as punishment…
– I could hardly deal with the face sitting, being so near to Mistress, squirming underneath You. The CBT was torture indeed, especially given my excitement at being teased into delirium by Your panty clad treasure and subtle aroma. Oh my god… The torture I had to endure was absolutely worth it. And the reference to Cuckold in very nearly brought me to the edge…
– Aside from the obvious face sitting, also loved the other subtle bits of teasing – asking me to adjust Your suspenders, and then later undoing with Your stockings, and just generally the sensual approach, leaning in close, showing off your gorgeous bottom, etc.
– Loved worshipping your feet, one of my favourite activities and Yours are divine! Would never so nay to this and wouldn't mind a bit of massage as well, if possible extending upwards from the ankle as well.
– The talk about Your own sexual activities and the thought of cuckolding drove me absolutely INSANE!!! Fully appreciate that a lot more trust, and therefore time spent together, would be needed for this. And possibly, You may never feel comfortable doing this with me, it's obviously a very personal thing. It's pretty obvious that I would love being cuckolded by you, but even just talking about this is enough to add another dimension to sessions.
I'm not sure what it was – the wonderful strapon play, Your masterful teasing, mention of cuckolding or just Your sexual superior presence – but I have not cum like I did on Saturday night for a VERY long time!!! It's that time of the month for my friend, so I'm ashamed to say I resorted to some solo action (with sissy hypno porn of course)…
You know already a lot about what I like in sessions… But it's also vitally important for me to form a personal bond with a Mistress, something I've been missing a bit recently… It adds another dimension to sessions and trust is important.
I had a one-year ownership with a Mistress and absolutely loved it, I sessioned exclusively with her during this time, gifted her liberally, we chatted a lot, had lunches and dinners, shopping trips, co-attended Pedestal a few times, and we discussed trips (but never got round to doing this). She summoned me on an impromptu basis to serve her, as a participant in sessions, for lunch, or to administer much needed foot massages, etc. We had regular paid sessions, but the relationship extended beyond this, I loved it and she was satisfied by my servitude. This stopped last year though, because she started having less time for Femdom due to other commitments. Generally she is not very active these days but I do still occasionally see her (without expectation of exclusivity of course).
The point of raising this is to explain what I would love in a longer term D/s relationship. I appreciate that every Mistress's style is different and this may not work for You. But at least this gives You some idea. We can see how things develop maybe, if You might be interested? A sessioned followed by dinner around Your birthday might be a good start?
If You prefer that I don't talk about experiences with other Mistresses, please let me know. I am just using it as a point of reference to explain the things I like and dislike, desires, limits, etc.
OK, one final point… I don't like to talk about and I'm sure the same probably applies for You, but I did want to mention a few things to manage expectations…
I am in the process of buying a home with my friend. We are stretching ourselves quite a bit.. London prices, family planning, etc…
So… A lot of savings going into deposit, less free funds, a little more scrutiny on achieving monthly saving targets, etc. That means I would need to be just a bit more careful about tributes, and gifts, regrettably…
I will unfortunately not be able to afford very large gifts for the moment, especially as I would rather want to see You! In terms of sessions during this time, I would hope to see You say once every two months. I do hope that You understand my temporary constraint Mistress, and are not put off by this.
In terms of gifts – I tend to prefer gifting in person rather than sending, prefer the more personal approach (I tend to bring a small gift to each session and would usually wrap them as well, but ran out of time yesterday).
I've gone a little bit crazy in the past with gifts, have a bit of an addictive personality so need to be careful… Some gifts stood out on credit card statements and were a bit difficult to explain… These days I prefer buying smaller things and gift more regularly, but of course there's always the possibility of saving up some cash if there's something You really like…
Modest gifts bought at airports in particular are more manageable. I have a bit of an addiction to perfume in particular – so much that the duty free lady in Geneva knows me quite well lol… The Mistress I served loves perfume, I think I may have bought her something like 30-40 over a 2-year period! Not sure what she does with all of it lol!! I hope not regifting…
I will keep an eye on Your wishlist and start planning for something nice for Your birthday.
Thanks again for a really awesome session. Had a bit of a tough time personally recently and needed that!
Your submissive slut James
Mistress Tess
Thank You from the bottom of my heart for allowing me to enter into Your service yesterday. You are truly the ultimate Mistress – welcoming, engaging, communicative, intuitive, witty, and thoroughly professional in all respects. I'm sorry that I was less engaging and entertaining: through some nervousness at the outset, and the extent to which You had successfully messed with my head by the end, I must have spent most of the time sounding like a drooling idiot. Although come to think of it …………
Thank You in particular for interrupting Your filming – I am so glad that You did, but I do not underestimate the inconvenience to You. And thank You also for mentioning me in dispatches on Twitter – I feel honoured.
Contrary to my expectations in the run-up to yesterday (and perhaps contrary to Yours after yesterday) I have not touched myself since. I am completely content simply to relax, replay the experience in my head, and enjoy a sort of dreamy euphoria. Maybe ASMR is contagious?!
Thank You again for everything. I hope Your travels go well and I dare to hope that there will be further opportunities to serve You in the not-too-distant future. I also hope that the Mindjob cards can indeed be turned into successful jeopardy games: I look forward to learning the outcome – with some trepidation.
Your very humbled servant,
iain
Dear Mistress Tess,
Thank-you again for my session last week. It was truly special and a great delight to meet you in person.
Further to your call out on Twitter for session reviews, I have drafted the following. Please feel free to use:
I had the great privilege of meeting Mistress Tess for the first time during her recent Ireland tour. Having admired her from afar on Twitter and Onlyfans for some time, I knew how shapely and beautiful her feet were and leapt at the chance for a realtime session. I submitted an application through her website outlining my background, previous experience, likes & dislikes. Within 7 days she replied, requesting a deposit and once paid she agreed to the session and scheduled a date and time.
When the day finally arrived, I texted Mistress Tess before 10am and she replied with the location and meeting details for that evening. I parked close by, with my heart racing. I walked around the block a few times before receiving a text from Mistress Tess summoning me upstairs. The lift door opened, I knocked the door of her apartment and my heart skipped a beat as I heard the sound of her heels clicking down the corridor behind. As the door opened and I stepped inside, I was warmly welcomed, with Mistress Tess' sultry, dulcet voice putting me at ease.
We stepped through to the living room for a brief chat about my previous experience, outline of the corporate roleplay foot worship session we had planned and agreed the format. Once finalised, I passed Mistress Tess my tribute and she went into the next room to change into her costume. I waited nervously (almost as if I was going into an actual performance review!) with each noise from next door causing me to shuffle in my seat.
A short time later, Mistress Tess entered the room looking even more enchanting in a dress that complemented her athletic figure and a pair of Louboutin heels on her dainty feet. She slipped seamlessly into the roleplay and before I knew it I found one of her Louboutin clad feet resting in my lap. "Take it off" she ordered firmly "kiss my foot". As the fruity, floral scent of her foot hit my nostrils I was overcome with excitement.
I could feel Mistress Tess' eyes burning into me as she gave firm orders for me to follow as I kissed and worshipped her soft, pedicured foot. Before too long, I was ordered to strip before her, showing the scale of my excitement. Mistress Tess brushed one of her feet teasingly across my erection, sending waves of delight across my body.
For the next 45 minutes I was in heaven, intently exploring every inch of Mistress Tess' soft, succulent, silky feet with my tongue. Mistress Tess ordered me through a variety of positions and techniques to thoroughly massage, kiss and lick every part of her feet. Eventually, Mistress Tess allowed me release, her soft soles smothering my face as ripples of ecstasy washed over me. After I cleaned up and got dressed, Mistress Tess offered me a drink and spent some time chatting with me, there was no sense of being rushed.
I would thoroughly recommend Mistress Tess for any kink or domination session to explore your fantasies. Her beauty, presence, skills and experience become immediately clear from the moment you meet her and you will be treated to a professional and life changing experience.
Kindest regards,
L F