Vanilla Corruption Rescheduled - April 23rd
This Spring edition (rescheduled from last Summer) will be held in a private location on the outskirts of Peterborough, Cambridgeshire.
Those who have followed My journey with this event from when it was first founded in 2016, to now, have seen it grow and evolve into a showcase of kink to a wide variety of "vanilla" and kink curious Ladies. Over the years it's seen some of My Female family members, some friends and now a much wider circle, this unique event acts as a workshop of entertainment and education for those looking to laugh, hurt a man, or be educated on the alternative sexuality of BDSM in a safe, sane, consensual, and of course light hearted approach.
Born from a group of curious Ladies at a Hen Party back I was attending in 2016, it's humble beginnings with just half a dozen Ladies attending, to Me now having to restrict the numbers to fit everyone in and even extend past the annual set up to a tri-annual event with a mix of the original outdoor marquee garden party feel to a few dungeon editions a year to introduce the Ladies to more equipment and complex fetishes.
For this rescheduled edition, I've invited Miss Helena visiting from Los Angeles and Miss Rose of Sussex to host in corrupting the vanillas.
The date for the post pandemic comeback is Saturday 23rd April it promises to be a good one and the excitement already bubbling between My vanilla Ladies is palpable!
Running from 2pm - 6pm, to allow time for the Ladies to relax into the proceedings, have a buffet lunch and enjoy a few drinks during as well as playing with the subs and slaves!
The tribute of £400 is payable up front in full upon securing your place at the event, the tribute is non refundable and non transferable.
Collections can be made from Peterborough train station, if you are planning on driving you will need to make arrangements to park at the station to be collected from there also. Parking will not be available at the venue.
I do ask that you provide a reference from a Professional Dominatrix that you have served in person or played with previously which will be checked to ensure your attitude and mannerism suit that of My event.
Should you be inexperienced and wish to attend, then a pre-event cam session of a minimum 30 minutes duration is required with Myself to assess your suitability.
Mobile phones will not be permitted by any slave / sub and will be asked to be turned off on collection and you will be allocated a locker to store this along with any other personal belongings at the venue.
What can I expect from the event?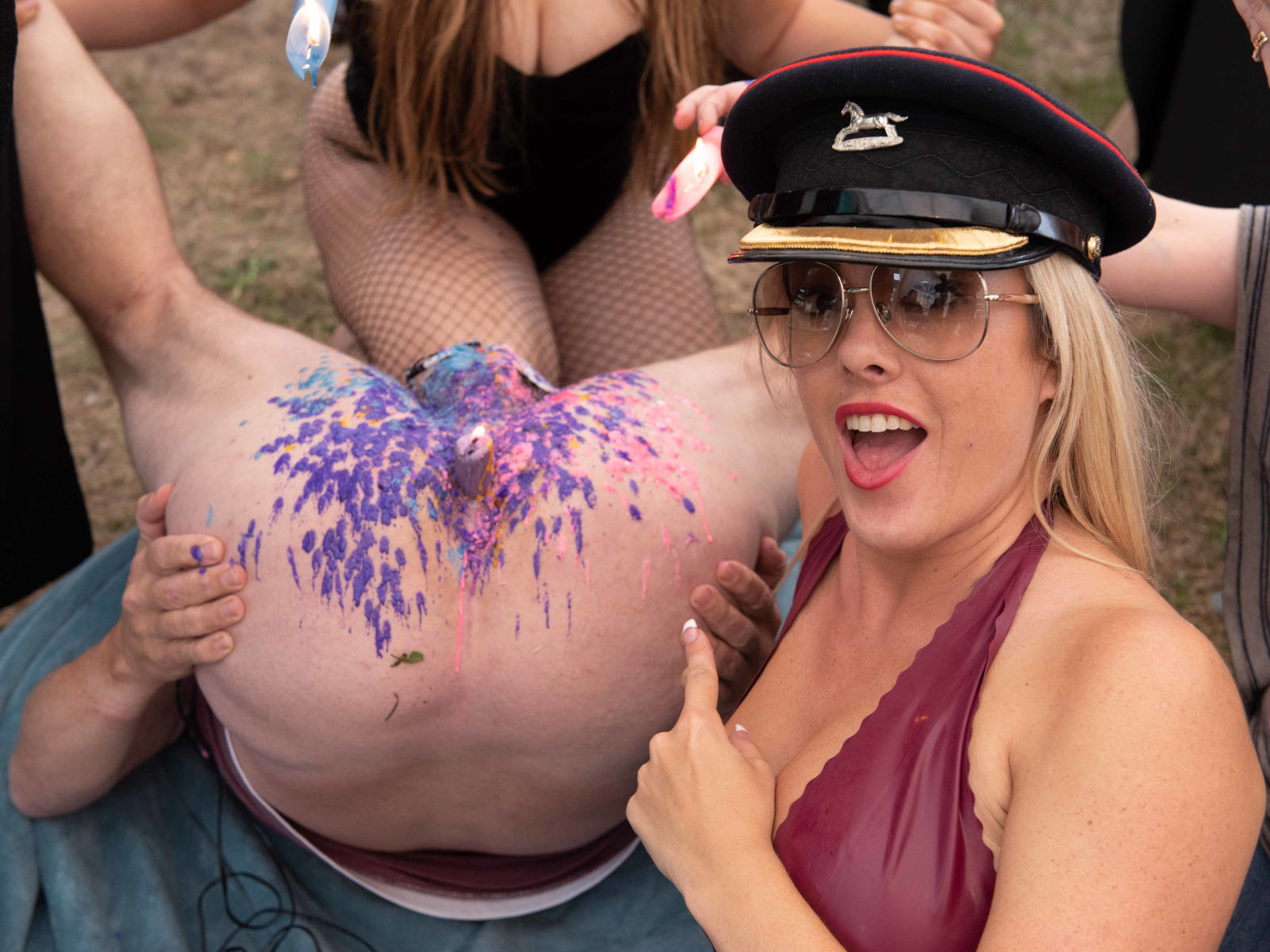 The event is a CFNM (clothed Female, naked male) event, with the exception of sissy or pet play attire (or a chastity lock!). Starting with a line up of the males by Head Mistress Tess for assessment, I've been known before to allocate ID numbers to each male attendee, to really strip a man of his ego!
We'll do a little introduction for the Ladies and then pick a few starter " man toys" from the line up to get stuck in and then circulate around so all men will have play time with each Domina present and as many of the vanilla Ladies as they get the pleasure of interacting with.
A large premise of the event is male humiliation - I mean you're being paraded around in front of My Ladies, naked and likely chastised with nothing but a number as identity - that alone is humiliating enough!
So, I'd advise that if you don't sub well in front of other males and don't enjoy at least a basic level of humiliation then this event is not for you.
I've found that once the Ladies relax into the event they're easily called upon to step up and participate, even asking to have a go at various kinks! Obviously, this is all heavily supervised but prepare to be shared between some keen and awed Women!
you will have access to WC facilities, refreshments and a meal post the Ladies being full satiated - then the dog bowls will be handed out. Tee hee!
you will be asked to complete a pre event consent form where you'll be asked to outline your experience, interests and limits for My perusal, these will be available for the Ladies to read at the event but I would also stress (and again brief this at the event before activities take place) that you use your safe word as / when required - nobody likes a false hero and we all want to have a good time!
The event is an orgasm free zone!
No cum allowed.
The only other activity I've previously been known to permit, and it will apply to this event, is coercive bi activities and those in line with My limits on My website.
If you're reading this as a lifestyle Mistress, or a newbie Professional looking to immerse yourself in this event for the experience or for networking, you'd be welcome to attend (dependant on capacity), please do get in touch!
Send your application to corrupt My vanilla Ladies with Me to; obeymistresstess@outlook.com