Aftermath of Corrupting the Vanilla's Garden Party
Casting your minds back to the August bank holiday weekend..
I was having a Super Sunday and I thought I'd share with you a bit of a report on some of the experience that was my first Kinky event (and by the looks not the last!) as hostess. Of course you'd never be able to get a true grasp on the buzz of the atmosphere of the day nor the engrossed involvement of my ladies just from a blog post, shame you missed out isn't it? The 5 slave placed were allocated very swiftly after my announcement of the event, all with well verified references or previous establishment with myself.
On private land I entertained a small group of Vanilla lady friends with kink and debauchery. The idea behind the party was to give my ladies an insight into my Domina lifestyle and if a few new domme's were born of my handiwork then long reign societies movement toward Female Supremacy. I set up various areas in preparation for whatever took my fancy on the day. These included a reinforced swing frame as a whipping station, dog cages for my slave's safekeeping – I do love confinement. I also had a bondage board laid out then, my pride and joy, hand carved throne given pride of place in the marquee. True to British Bank holiday history we did experience a little rain but for the most part it was warm and dry.
To begin proceedings, each of the 5 slaves addressed me at my throne by kissing my boots and handing me gifts, after all it was a party. I had a good spread of interests covered between the five of them, which was perfect for a wide span of demonstrations to my ladies. Whilst they sat round sipping bubbles they'd been served, I went about using the human toilet boy to relieve myself and serve him my own brand of "bubbles" direct from source hovered over his face to his mouth, much to the aghast faces of the ladies. Well I wanted to start the party with a bang!
I caged my puppy boy and left him to fit himself with various butt plugs within full view of my lady audience. The third was a sissy maid so "she" was dismissed to change into her attire. I also had a masochist in attendance, so thought with 3 slaves occupied now would be the ideal time to show the ladies my cane **smiles with sadistic evil grin** and here began the first participation from a few of the ladies. I started with a few of my medium to hard blows to demonstrate the coordination and concentration required. I then offered the ladies to take a turn. A couple of them did and were quite surprised by the control required to aim and hit where aiming. It was a delight to see them realise it isn't as easy as simply swinging your arm.
Last but not least I had there my regular and under consideration Kinky Winky boy. I bound him to my bondage board (made by his very hands I might add). I then proceeded to show my ladies some CBT whilst facesitting in my latex.
Sissy "Betty" (named by myself after a vote to the ladies) then rejoined the party to have her outfit critiqued by the ladies. I fitted her with a pretty pink butt plug and set her about serving the ladies their drinks etc.
Puppy boy was then released for one of the very keen ladies named Jemma to play several rounds of fetch and carry adorned with my new leather puppy hood looking like the perfect little pup. Jemma exclaimed she'd found her vocation in life.
Since the caning was so well received and had a few of the ladies up out of their seats trying things out it seemed perfect timing to restrain the masochist to my swing frame ready for a whipping. Due to the area of marking allowance being on the butt region I only demonstrated the 2ft short tail whip for a few strokes, followed by letting the ladies loose with my leather tawse. Half the group had a go with my friend Simone getting a little too into it – queue me prying the tawse away.
Back to my Kinky Winky, I allowed the ladies to remove a clip each from his balls, done with such trepidation and even apologies when he winced which I myself found quite amusing. I dragged him over to the throne to "cushion" my seat whilst two cleaned my boots with their tongue and my puppy worshipping my hands.
Such busy little boys! After suitably suffocating my Kinky I let him free to get to work on my friend Donna's tootsies, a well deserved foot massage for her and I also had "Betty" painting toes and rubbing feet too. Time for a cigarette, turns out the toilet slave doubles up as an ashtray, how convenient. Before you know it 3 hours has passed – time flies when a Domme is having fun!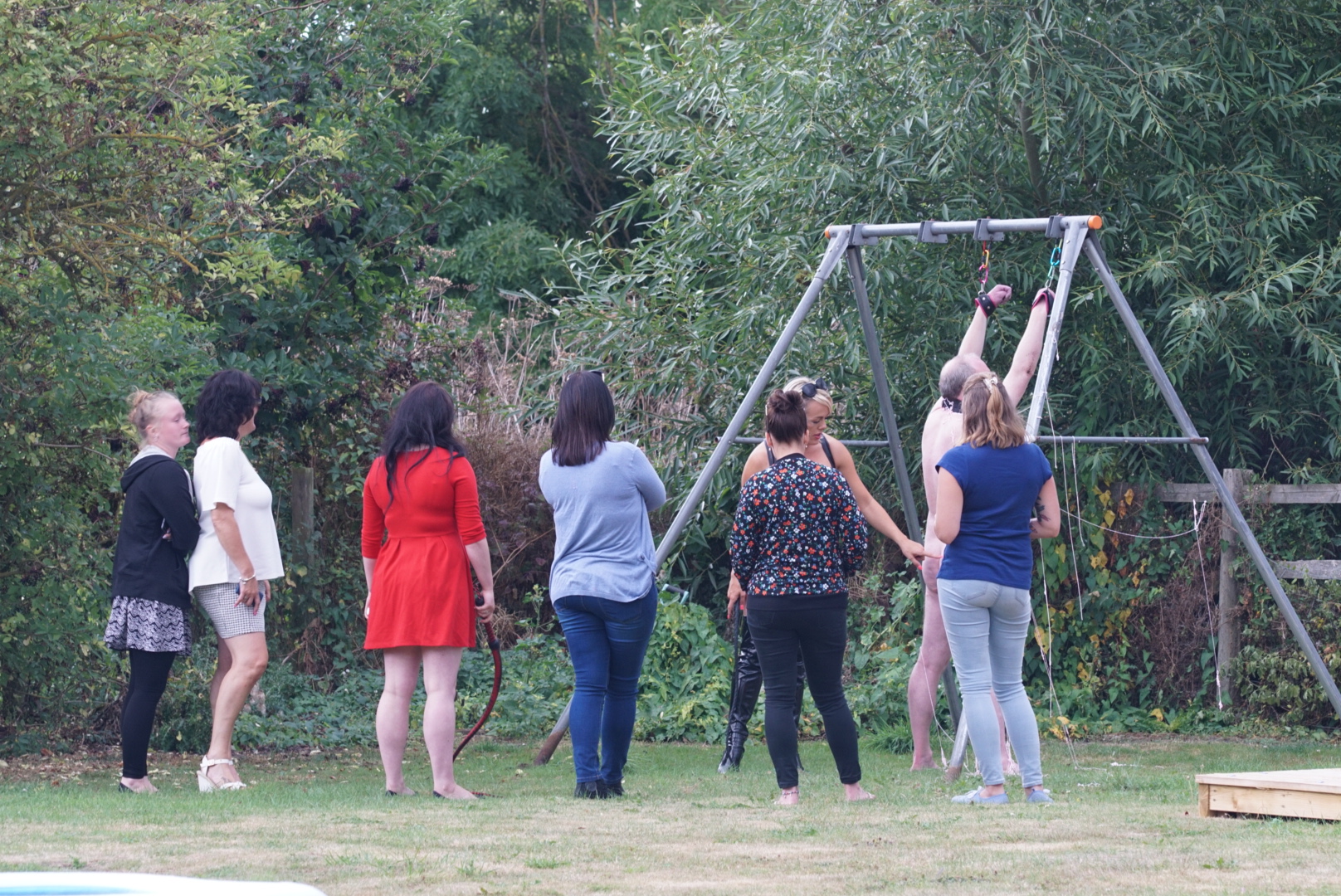 The major positive from hosting this event is each and every one of the ladies is keen to know when the next party is occurring and had such a good time, they all left with their minds completely blown. I very much enjoyed myself as I always do having an inferior male at my whim and on this occasion times five. I'm very lucky to be surrounded by such open minded, understanding group of friends and from the feedback I've had of the slaves each would be happy to return to serve at any future events – so watch this space.
Keep Kinky!
MT x