Dine the Dominatrix of your Dreams.
Over the years I have dined with many of My clients, regular subs and collared slaves.
Personally, I enjoy being taken for good food and pleasant, respectful conversation.
For you, there may be a number of reasons why taking a Dominatrix to dinner may be appealing. I've written this blog post to highlight some of the benefits to spending time with a Dominatrix outside of the dungeon and in a more personal setting.
Let's start with if you're a newbie, whether that's a new sub to the Dominatrix you have in mind to contact for the first time or you're completely (or relatively) new to the FemDom scene. Meeting with the Domme in question (assuming She offers this kind of meet), for a dinner meet can provide as a great icebreaker if you are feeling nervous or intimidated. I mean, I enjoy a bit of male intimidation in the right setting but I can also understand that setting up an initial session booking with a Dominatrix can be daunting.
Many times I've been contacted with a comment made such as: "i saw you at Club XYZ and i wanted to come over to introduce myself, but You seem so intimidating."
Whilst some part of Me does find that hot and I'm aware of the responsibility that comes with My power over men, most that know Me know that I know when to wield it and actually I'm very approachable.
Time and a place and all that.
So you're brand spanking new to the scene, you've studied your chosen Dominant Lady, you've read Her website fully and you're ready to meet but would feel much more at ease in a less pressured setting and you see from Her website She offers dining meets.
To add context, I'm going to continue as if said Dominant was My fine self.
I personally offer "Over Dinner" meets for a fraction of My session tribute amount, of course with the expectation My travel expenses are covered and you are picking up the bill of course.
I'd also expect to have jurisdiction of restaurant choice but I will express that I really enjoy French and Italian food, but also adore English fine dining or a good gastro pub. I recommend a minimum of 2 hours for this type of meet (maximum 4 hours) and would require the tribute up front upon making reservation arrangements.
Dependent on where the restaurant is, I'd arrive by taxi, do respect how I choose to arrive to the restaurant, I don't jump into cars with complete strangers.
I'd expect you to be there a little early to anticipate My arrival, it's just good (and gentlemanly) manners.
I would not expect you to formally address Me out in public unless you had previously expressed the consent to do so. I understand how important discretion is to most, and particularly so in a public setting.
I would settle for Miss, or even permit just Tess but for only in this setting.
Want to please Me at dinner? Dress well, I love a buttoned up shirt. Wear a nice cologne and make sure you have nice breath. One of My biggest turn offs socially and sexually is bad smells particularly breath. My favourite colour on men is black or blue and as a shoe fetishist Myself if you own nice shoes, wear them.
Over dinner we can talk more informally also, you can get to know Me from what I choose to divulge personally and perhaps we can talk a little on what makes you comfortable to discuss in this setting like where does your desires within FemDom originate.
If you're not so new to the scene, but new to Me, I'd love to get to know more about your experience and what makes you tick.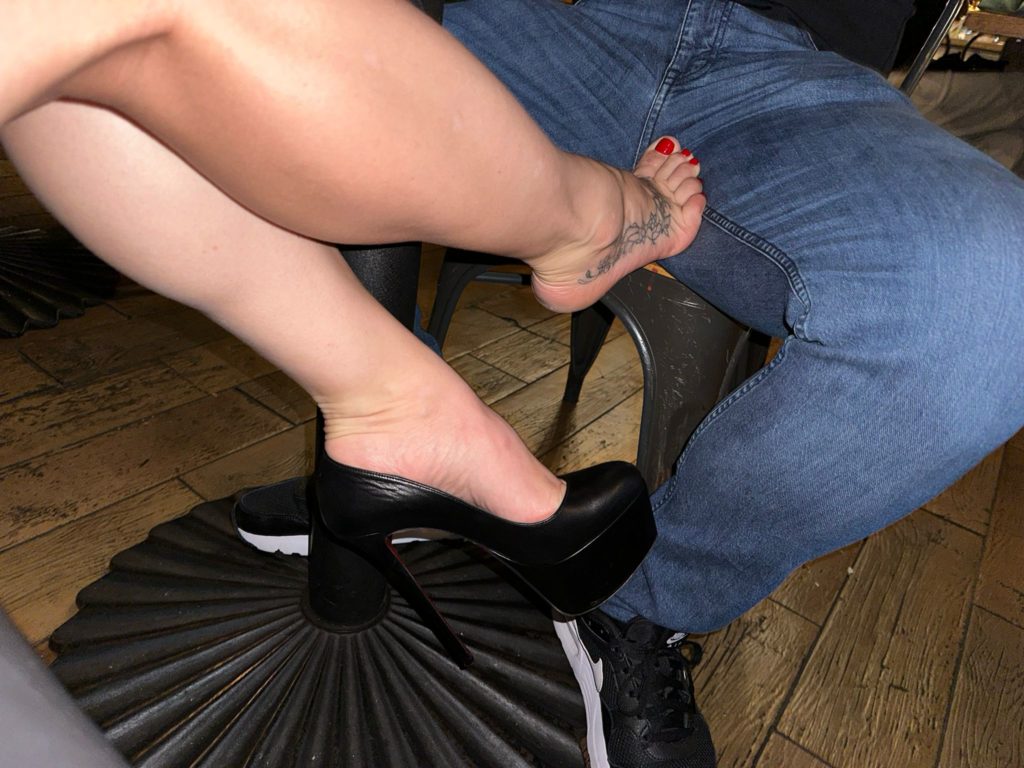 Where has your journey taken you before you found yourself at My website.
It's worth mentioning here, that in or out of session you can expect a lot of eye contact with Me. I'm never the Dominatrix (unless introducing a high protocol environment) who does not use the power of eye contact. I think it's an important communicative tool.
I find that building a connection in spending out of dungeon time together can only strengthen the D/s bond in the dungeon. In favour of optimism, familiarity breeds acceptance (not contempt). Call it acceptance of My authority, acceptance of My professionalism and acceptance of My exceptional skill set as tools to bring you willingly into submission and on your knees for My will.
To reinforce the point, adding a layer of familiarity, getting to know your Dominatrix better prior to session can be considered as a foreplay for dungeon play, to alleviate tension or nerves that may take away from fully enjoying a session.
I have also been known to do discrete public play at a dinner meet, such as chastity lock in's and key holding, under table tease (feet / heels), underclothing cross dressing, remote electrics and for more of the FLR feel, taken away the male choice of his own food and picked their meal for them. This type of play would need to be expressed and discussed prior to the chosen date to meet and an additional tribute maybe required.
Alternatively, if W/we've been playing in sessions for a number of months and you'd like to spend time together in a more leisurely environment, maybe a post session treat or you have a special occasion you'd like to celebrate with Me or treat Me on such a special occasion as Birthday / Christmas / Valentines then a lovely way to show your appreciation besides gifting would be a lovely dinner together to further strengthen O/our connection.
So you like the sound of dining with Me, what's the next step?
you can apply to dinner with Me by emailing Me at ObeyMistressTess@outlook.com
Specify 3 date preferences, a preferred reservation time and any restaurant proposals for My consideration along with a little information on yourself and why this type of meet appeals.