Escapades of a Dominatrix
Good morning all,
I wanted to take time to update you on my recent escapades.
A lot has been happening in my domain the past few weeks and a lot coming up too. April saw my first trip to the London Alternative Market, Femdom sessions up north in Manchester, a long weekend stay at Chateau Femme in Bournemouth, photo shoots for my website content and filming with a fellow domina for an upcoming project to which I've kept very much under wraps so far and will continue to do so for a while yet… Very exciting!
The London Alternative Market (LAM – www.londonalternativemarket.com) was a surprisingly delight, I've attended a few fetish events now and sometimes my expectations have been a little off but LAM did not disappoint. An array of people from different corners of the scene – gothic, fetish, dominants, slaves. All bought together to enjoy their common interest of BDSM.
I arrived in an Honour Latex Skater Dress and ankle high lace up boots, accompanied by my sissy (albeit on this occasion leather adorned and not en femme).
Immediately greeted by friendly staff and exhibition of stalls with BDSM treasures, I spent the first two hours of my time there shopping, which to those who know me know that I love shopping.. But this time it was different for each item I picked up I had in my mind a specific scenario or theme of session I just knew I was going to use it for… My Godemiche purple dildo bought from That Position (www.thatposition.com) was used only the very next day in session with one of my regular butt sluts!
My favourite purchase had to of been a toss up between the Unicorn Rainbow Tail glass butt plug and the Rubber Studded paddle – Fabulous! I also had my first taste of a Violet Wand, one of the vintage styled ones and I know for sure that won't be my last taste..
Between 6pm – 7pm the venue converts from market into afterparty and I can't compliment enough the relaxed vibe that circulated. There were kink demonstrations of whipping, flogging, caning, bondage and people were very approachable. A number of people approached me to chat and ask questions or compliment my outfit. I'm very much looking forward to the next time I attend!
Whilst on a personal agenda trip to Manchester I took a day of my weekend to session from the Manchester Chambers (themanchesterchambers.com). Again I took along my sissy as driver and shopping partner and I'll soon post a separate blog post to follow about my 'Sissy Adventures' and the en femme shopping trip. Well received by Manchester subs and such fun from chastity, watersports, shibari to pegging, canning and foot worship plus much more! I had that much fun I've decided to return in June for solo sessions and Double Domme sessions with the lovely Mistress Noir I had the pleasure of meeting whilst there, more about that coming soon also.
Last weekend I spent a luscious long weekend at the house on the south coast known to some as Chateau Femme, resided by the lovely Sue and Peter whom I meant at LAM earlier in the month. Chateau Femme (chateaufemme.co.uk) is a sexy, glamorous, premiere crossdressing service where TV's can go and escape to fulfil their "en femme" alter ego. I cannot recommend the service, facilities and range of wardrobe Sue offers there and how much of a approachable, lovely lady Sue truly is. My agenda for my trip was to take a look at her facilities for another potential future project that may well be underway this Summer, you have probably already guessed the theme of said project but I'll just say that I may be spending a lot my time on the South Coast for the rest of this year!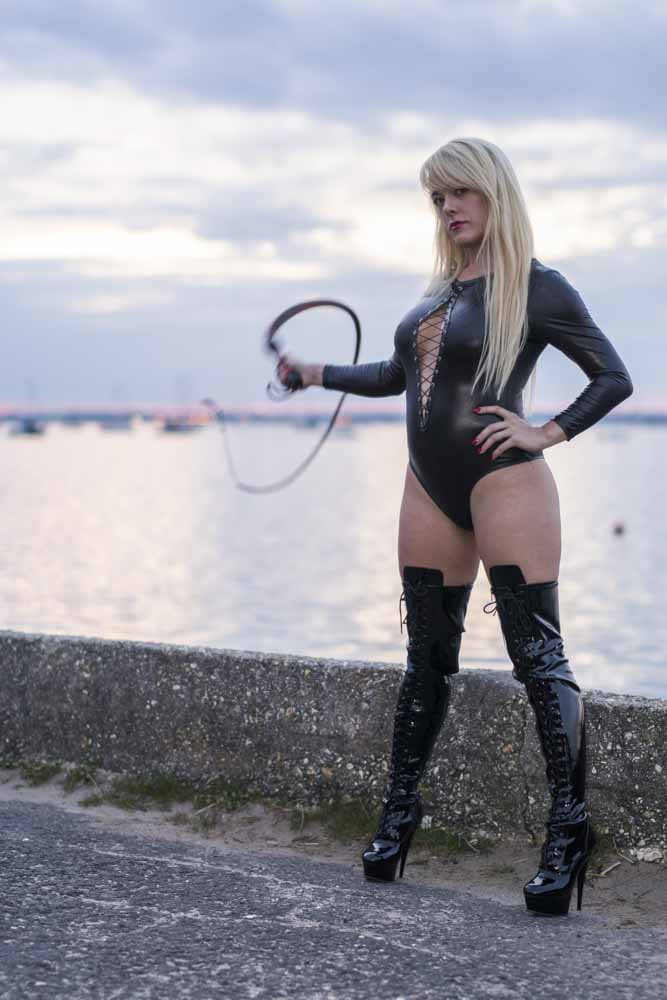 Finally photo shoots and filming…
I am consistently building on content to refresh my website, the first refresh coming in the next week or so. So I'm always partaking in a photoshoot of some sort, beings I know so many photographers. Doesn't hurt to have a stock of photos from different occasions, outfits, places (you may have seen on my Twitter I seized the opportunity last weekend in Bournemouth to pop down to the Sandbanks seafront in thigh high boots and bull whip in hand to have some photos in the sunset.
Although I'm not yet at the stage I'm filming my own clips on a large scale (although I have been stashing some away for my eventual clip store launch some distant day), I do enjoy to have a sub or two to play with on a photo shoot and feature in my stills. So if you think you could bring something valuable to my images in terms of pain limits or uniqueness, as well as contributing a relevant tribute for my time and attention then get in touch.
I have been meeting with a well established member of the Femdom scene, whom I'd consider as Femdom Royalty for a project that will be apparent later on in the year but I'm having a lot of fun with it, filming and gaining experience in some areas of interest that I'm keen to explore such as electrics and breath play!
So as you can see, lots going on, busy Mistress!
Keep Kinky Sluts.
Faithfully
Mistress Tess x