If you follow Me on Twitter, I'm sure it won't have escaped your notice that I'm attending and co-organising the FemDom event of the year in Athens alongside the event Hostess Mistress Alexandra Balance and co-organiser Ariana Chevalier of NYC. The FemDom Gala will be held at Mistress Alexandra Balance's amazing new facility, The Omega Compound, located on the outskirts of Athens, Greece.
Athens, the true home to Goddesses and Gods. One of the world's oldest cities, with its heritage still very much visible, drawing people from all around the globe to bear witness.
Omega was born of Mistress Alexandra's vision to create a BDSM haven with a non-conventional twist. A haven to which Women are revered as Goddesses, for those in the lifestyle or just infrequent players to visit and play out their kinky fantasies. The compound consists of a private outdoor space and 7 rooms, each uniquely themed, from luxurious surroundings to a prison environment. Catering for every corner of the kinky imagination.
Combining the Global location of the ancient Goddesses and this wonderful facility, the FemDom Gala has been born. An event bringing internationally renowned Dominatrices, both Lifestyle and Professional alike together in one location for a not to be missed celebration of Female Domination.
The event is High Protocol for the men, as is appropriate when immersed in so much positive Female energy. Ladies are there to be revered and worshipped as they truly deserve.
The event will welcome the Ladies in true red-carpet style and will feature play areas, workshops, games, performances, BDSM vendors with stands, clothing catwalks, an awards ceremony and a FemDom High Tea, a formal sit down dinner and of course a huge party!
On top of all that, the rubber Queen of NYC Herself will be in attendance and, as an extra special guest, incorporating Her long overdue Birthday Celebrations into the proceedings. Mistress Ariana Chevalier is a renowned Dominatrix and true fetishist, a true high Priestess of Her craft. To be immersed in Her powerful aura is to fall prey to Her. It would not be long before you are malleable man meat under Her spell.
Being the Birthday Queen, special guest of the Gala and also co-organiser, it would be pertinent to bring along a gift. Listed here (https://mistressariana.com/intro) on Her website are Her gifting preferences as well as Her Amazon wish list link: https://www.amazon.com/hz/wishlist/ls/AMQZMJBN8ALV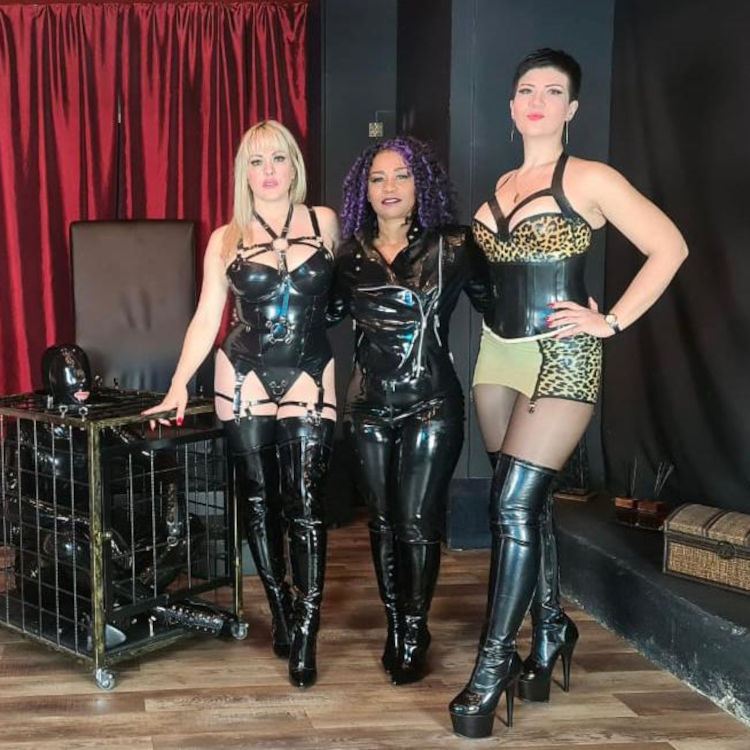 The event's organiser, Mistress Alexandra, Greek Goddess of pain and pleasure. An absolutely natural Dominant Woman with such a strong commanding presence. Her multiple years within the BDSM scene and a lifestyle Matriarch, with Her at the pinnacle of this event it is going to be a heady mix of elegance, style and a true display of Female Domination at its finest. If you wish to bring tribute to the Temple of this Greek Goddess and show your appreciation for Her efforts putting together this wonderful event. She does not have a wish list online but She adores the finery of champagne, furs, jewellery and of course property should you feel as generous to hand over deeds!
Now if you've waited this long to get interested in attending the Gala, you may end up very disappointed. The event is almost sold out, with most enquiries now being added to a waiting list.
For more information see here: https://omegacompound.com/femdom-gala/
To further add, I have a VIP slave ticket in My possession, I am still on the lookout for one more slave to join Me for the duration of My trip to Athens. I'm arriving in Greece on Thursday 12th of May.
I have rented a villa by the beach about 30 minutes from the Omega Compound (where the FemDom Gala is held).
To accompany Me is to stay in the villa with Me from the Thursday evening to the Tuesday evening. Whilst in the villa you'll be subservient to My needs as a D/s FemDom environment under high protocol such as addressing Me correctly, chores, assisting preparing My meals and serving them, human furniture, worship / massage activities as I sit fit within your own personal limits.
Accompanying Me on a leash to the event, I will play with you there, how much is at My discretion. You will be fed whilst in My company, and sleep in the lounge area. I do adore to feed a man via dog bowl.
you will travel with Me to and from the event and on the Monday / Tuesday you have the option to travel back to the Omega Compound with Me to be a filming slave (otherwise it's to attend as My runner slave). If you'd like to be involved in the filming, you may be hooded if you wish but you will need to provide ID for this also as well as sign a model release form.
If you align your travel schedule with Mine you may travel with Me to the villa on the 12th and subsequently from the Compound back to the airport, I will be hiring a mini van to transport around during My stay.
Of course there is a tribute that applies, you need to be ok with a multi male environment, I will require your ID up front for My security and references from other Professional Mistresses to background check you.
It's also worth noting I have another British Domme staying in the villa with Me and two other Dommes from the US, so you'll be very much around good FemDom company.
If you require any further details or applications to be My 24/7 slave for this unique opportunity, email: ObeyMistressTess@outlook.com