I'm having a foot party at My new dungeon on Tuesday 20th June.
This will be My first event at My new play space and I'm very excited. I wanted to do a blog post to clear up some details about the event and how they will run.
There are two time slots on offer. A 1pm time slot, and a 6pm time slot.
Both time slots are 3 hours long and for the purposes of tribute are two separate sessions. Unlike that of the likes of the regular and very successful foot parties on the scene currently, such as Bossy Paw, this is a one off event. I do not plan on running regular foot parties. It will be on an ad hoc basis for any visiting international Domina Lady friends of Mine that want to make the most of their visits to the UK.
The events will also be run differently to that of other well established foot parties on the scene in that there is only one tribute requirement and once that tribute has been paid and you are in the door of My play space you will be able to approach / be plucked by any of the Domina's present for as many "sessions" as your kinky little foot bitch mind (and mouth) can take..
Other known events tend to run as a low entry fee, which is for the well deserved house, and the Girls present operate on a sub contracted basis if you will. Where the money they generate by the mini sessions with any foot guys present is for them to keep as their tribute.
£300 tribute per session
To be clear, the £300 tribute for each of the 3 hour parties, to be paid by YOU (the foot subs/slaves attending My events on this date) will be the only payment required of you (unless you want to be an extremely good boy making a good impression by bringing cash tips!). The tribute is due in full up front upon booking in.
I mention above "sessions" - what I mean by this is the time you spend with each of the attending Domina's at the event, during each of the 3 hour parties your time with each Lady will be capped at 15 minutes a time. This does not stop you from spending more than one "session" with one Domme present, but it will allow for adequate breaks and everyone to get at least one "session" with all four of Us attending.
Present will be Myself and My delectable size 7's, alongside Me will be My British partner in crime Miss Rose aka She Controls, My American partner in crime, Miss Raquel Roper from Florida and lastly (but definitely not least) Miss Penelope of London, a gorgeous sculpted blue flame haired beauty!
Mistress Tess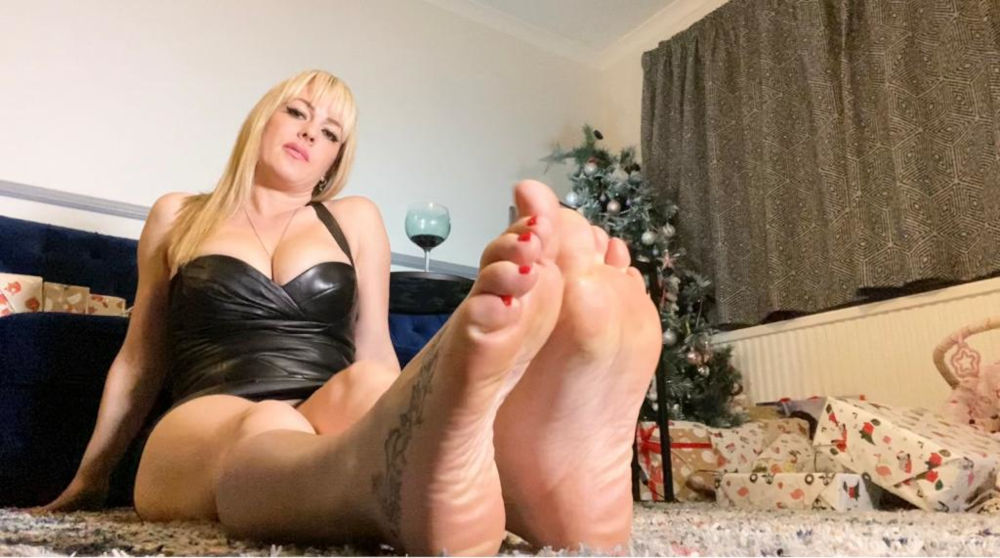 Mistress Tess' FemDom journey began with Her desirable feet, starting with foot sessions online before wanting to taste realtime and never looking back. Her beautiful high arches and delicately wrinkled soles have assisted in amassing Her a large collection of Louboutin heels, as foot freaks just can't resist lavishing Her pedi's with pretty adornments.
Miss Rose (aka She Controls)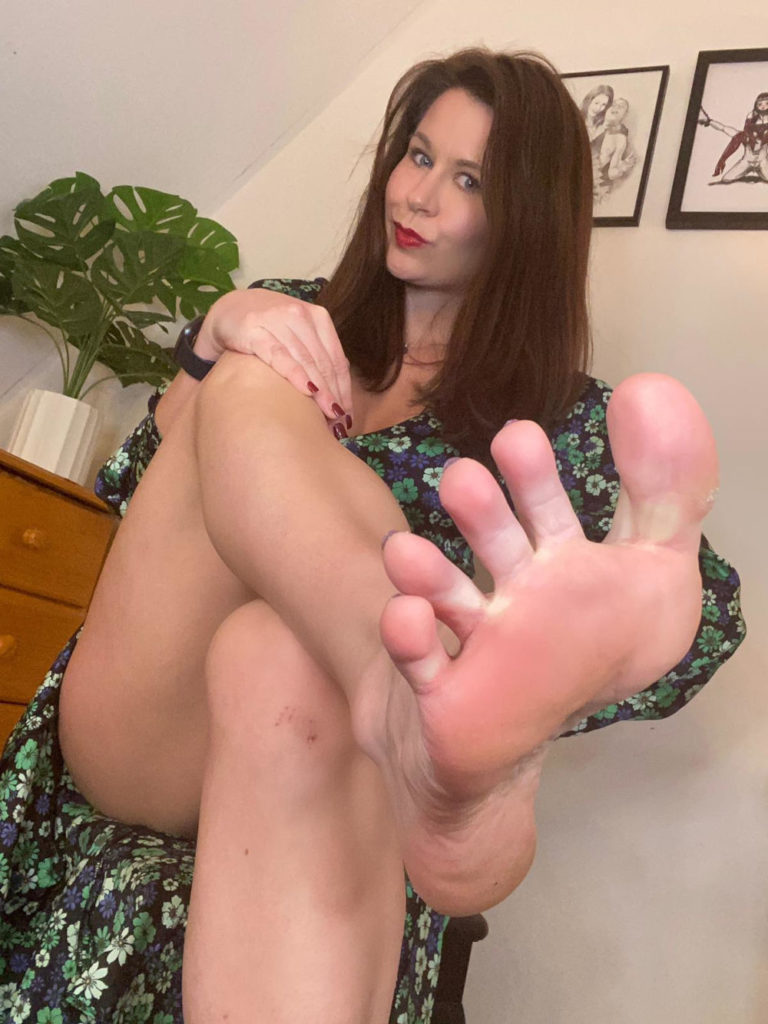 Miss Rose has been an established Financial Dominatrix on the FemDom scene for over 10 years and has cultivated extracting what She wants from men to a fine art. She has a large foot following and foot fetish as an activity is high up there amongst one of Her favourite fetishes to indulge and bring a man down to his knees with.
Miss Penelope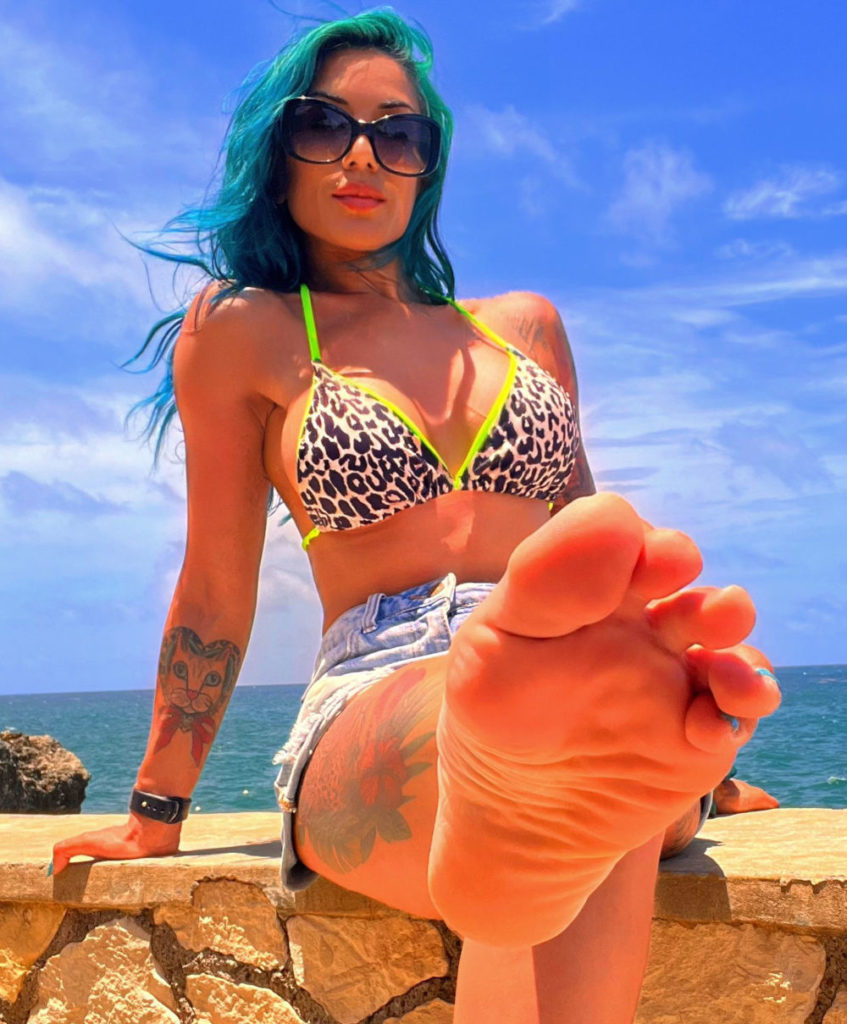 Having been on the FemDom scene for a number of years, based in central London, Goddess Penelope specialises in Foot Domination/Worship sessions only. Her deliciously soft creamy dreamy size 5 (38) feet will have you on your knees begging to worship them.
Miss Roper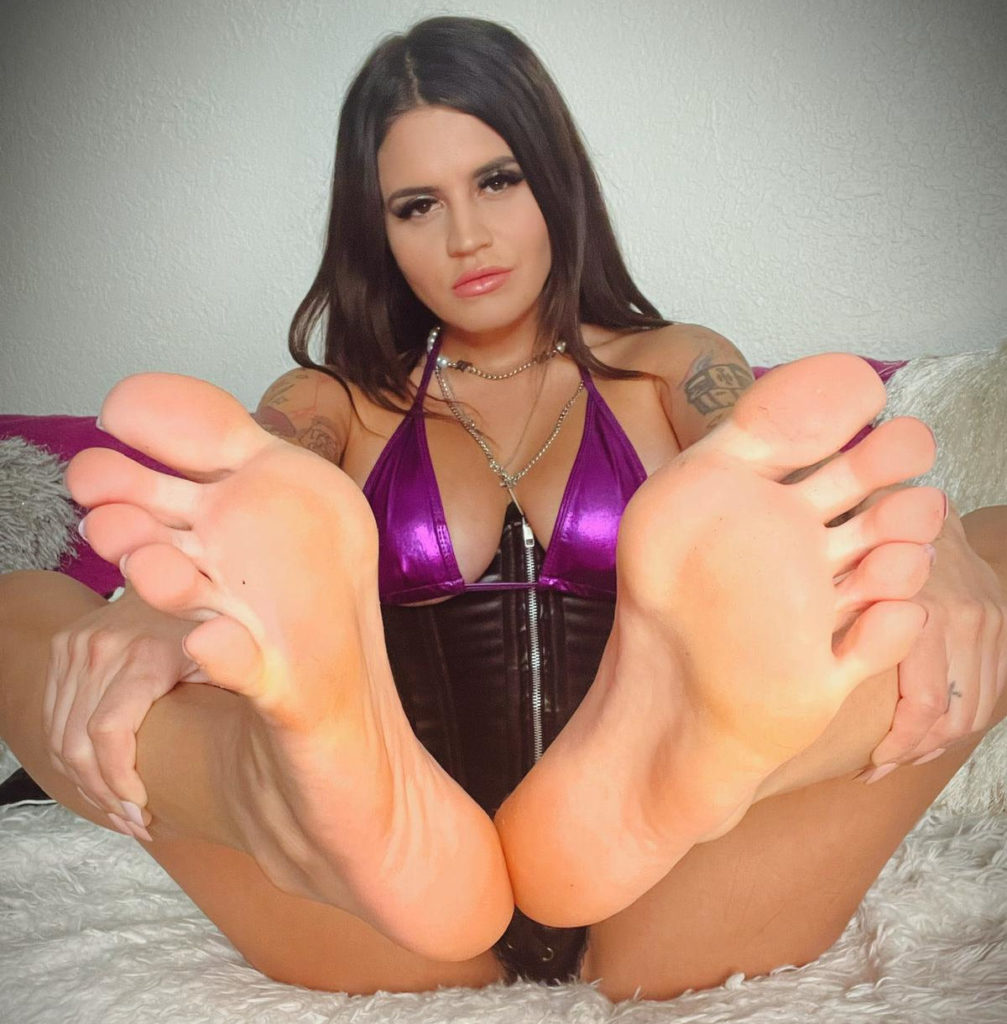 International Dominatrix & Content Producer Miss Roper has been heavily involved in the Fetish scene on & off the screen for over 10 years. Based across the pond in St Petersburg FL, her size 6.5 feet have gotten quite fragrant on the journey over! If you're well mannered, perhaps she'll allow you to indulge?
Clothed Female Naked male (CFNm) will be advocated but not enforced, but if you do remain clothed you will need to be ok with the probability that there WILL be other men around that prefer to be naked. I am also approaching these events with Foot Domination in mind, rather than just pure foot worship. This can look like (purely at the individual Domme's discretion of course) face slaps with feet, trampling, ball busting and maybe even bondage / orgasm control - but with the theme of feet!
You must be into feet and at least willing to WORSHIP bare feet to attend. I will open the event up to non submissive men but you must be a foot fetishist. you must also be respectful and polite, not only toward the Dominants present but the other males present and of their chosen dynamics.
There will be hygiene stations set up at four points in the dungeon for the Domina's to have their feet cleansed, washed and restored throughout the event. you will have access to free water as refreshment, additional soft drinks available to purchase as well as poppers.
I have a huge shower facility for anyone needing to clean up after also.
Location Wokingham
The play space is in Wokingham, with easily accessible public transport routes. The nearest station is Wokingham, which is a 10 minute cab ride away. Alternatively you could get yourself to Reading Central station and catch the bus that runs every 20 minute to a stop just half a mile from the estate (52 minute bus ride). All public transport routes can be discussed upon booking in.
Last Details
Finally, a main requirement for attending is a reference for Me to check, this is part of a screening process. I will ask you provide a name / website / social media account of an active Professional Dominatrix that I can contact Myself to verify you. This should be a Mistress you have seen in the last 2 years preferably for sessions or an event but I will also consider a reference as in a prior filming slave capacity.
To book your space, have you reference ready and email Mistress Tess: ObeyMistressTess@outlook.com